Ibtihaj Muhammad
Olympic Fencer Ibtihaj Muhammad Turns Bullying Experiences Into New Children's Book
The new children's book "The Proudest Blue: A Story of Hijab and Family" looks at a common childhood experience — the first day of school.
For sisters Faizah and Asiya, the first day is extra special because older sister Asiya will be wearing a beautiful blue hijab to school for the first time. The head covering, worn in public by some Muslim women, is a way to honor Islam.
But as Faizah and Asiya navigate a new school year, the two siblings encounter questions as well as teasing and bullying for wearing a hijab.
It's an experience that co-author and Olympic medalist Ibtihaj Muhammad knows all too well. She made headlines in 2016 when she became the first Muslim American woman to represent the United States in the Olympics wearing a hijab, and the first to win a medal at the games.
Since then, she's been viewed as a role model for young Muslim women, something she says is still surreal.
As a kid growing in the suburbs of New York City, Muhammad says her parents and siblings were one of the only Muslim families in town, yet sporting a hijab was "commonplace" within her family.
In elementary school, she had to explain what a hijab was to classmates, something she describes as "quite a heavy load to carry" at such a young age.
"At that age, you want to fit in," she says.
Ibtihaj Muhammad
Muhammad says writing "The Proudest Blue" was cathartic. The children's book provided her with an outlet to show other little girls wearing hijabs to school that it's okay — "I hope that they see themselves in this work," she says — while teaching other children to "celebrate one another despite our differences."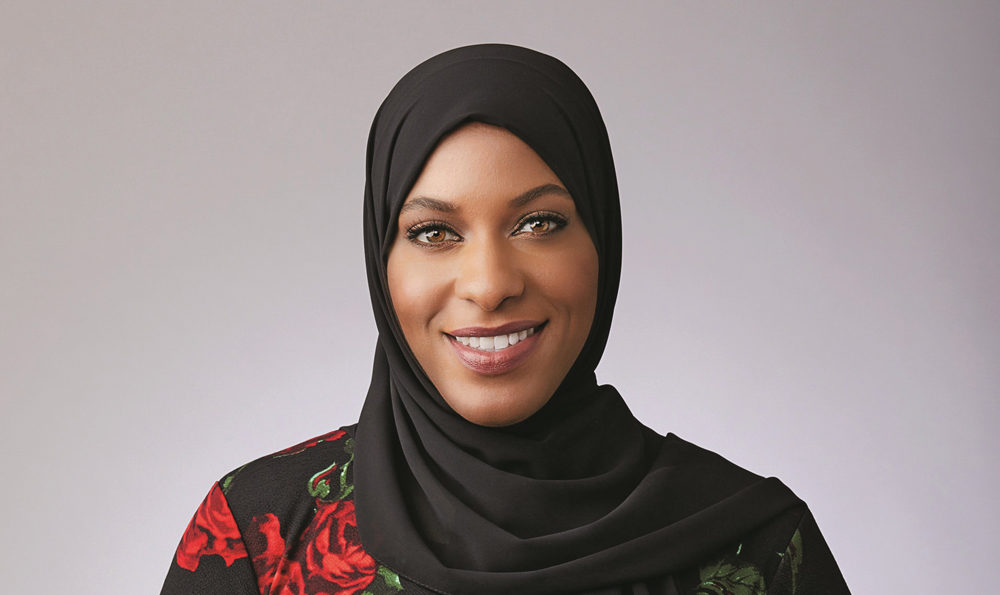 Interview Highlights
On how she addressed bullying in her book
"It was intentional for the bully not to really have a face. So you don't see his image, he kind of looks like this dark shadowy figure. But at the same time, it's so, I think, meaningful her response to that situation and her friends to rally around her and to ignore his comment and to not lash out in that moment. And I think when you look at the younger sister Faizah's perspective, for her to see that it didn't change how tall or proud her sister was in that moment [or] how she stood and she continued to play with her friends and not allow it to affect or change how she felt about herself, I think it's a meaningful moment for children out there whoever had that universal experience of bullying."
On the book's colorful illustrations
"I think that Hatem Aly, he's a Canadian illustrator, he did such a remarkable job with this body of work. I think that he brought the words to life. These comparisons of the hijab to the sky and to the ocean, just the beautiful blues that he's able to capture the words. I think he's very talented and I'm so happy to partner with him on this project."
On her real-life sisters being the characters Faizah and Asiya
"I think that Asiya's response is so indicative of who she is. She's a woman of very few words and she's like, 'Oh, that's cool.' But that's it. Faizah and I have fenced together for years and years and years. So for her, I think, it was an awesome experience as well to be a part of the book. I think the most interesting thing that my family saw is that the character Faizah, the images that Hatem illustrated, look a lot like my four-year-old niece — down to the little fluffy pigtails that she has."
On wearing her hijab while fencing
"I think that people have a hard time seeing things that haven't been done yet. And within my sport — a historically white sport — to have an African American woman climb up the ranks who also wears hijab, for whatever reason, was just never received well. And my personality, I would say, is to challenge this idea of 'no.' Why is it that people are intimidated by my hijab or intimidated by my ethnicity, and why can't we exist and have the same opportunity. So it was never a question of, 'Why am I here?' for myself anyway. I knew that I had a job to do and that was to make this space more inclusive not for me but for anyone coming after me. I wanted to get through the door and hold it open for hopefully more young girls and young boys to be in this space where traditionally we haven't been welcome."
On how some of her teammates and coaches didn't want her on the team
"I mean that's true. But one of the cool things about being a U.S. athlete is that it's point-based. So, in the end, it didn't really matter what people thought. If I allowed the mistreatment that I received — by not just teammates but coaches as well — if I allowed that to affect me mentally, we wouldn't be sitting here today. I wouldn't have been able to be successful. So a lot of it is being very myopic in your focus and your goals. And once you're able to climb to the top, then you're able to use the opportunity to unpack those moments."
On being an inspiration for young Muslim women
"It's definitely a 'pinch me' moment. It was a dream and even when it happened for me, it was just very surreal, so I feel very blessed and thankful for the opportunity. But I always say I wish it had happened prior so it would have been far easier for me to see myself in this space but I have always known that my journey has been bigger than fencing. It's about having equal opportunity [and] equal access. A lot of the reason why the sport of fencing is not as diverse as other sports is because there's very limited access for underserved communities and underrepresented communities. And I would love to see our kids try out different things and not that I believe everybody needs or should be an Olympian or have that goal but just to get out there and be active."