President Recep Tayyip Erdoğan met with English Premier League football stars Cenk Tosun, Mesut Özil and Ilkay Gündoğan on Sunday night, during the first day of his official visit to the U.K.
The three footballers met President Erdoğan in the Four Seasons Hotel in London, where they presented him with signed jerseys as a gift to the president.
President Erdoğan Meets Football Stars: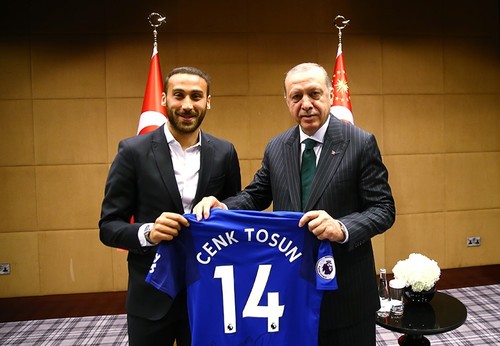 Tosun has played forward for Premier League's Everton since January when he transferred from Istanbul's Beşiktaş club.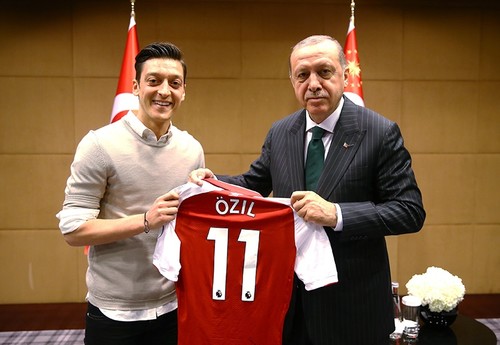 Özil has played for English club Arsenal since 2013, as attacking midfielder or winger.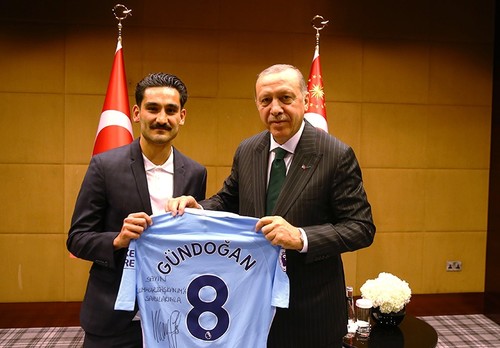 Gündoğan has played midfield for Manchester City since 2016.
Erdoğan began a three-day official visit to the U.K. on Sunday, with bilateral cooperation and trade relations on the agenda.
Recep Tayyip Erdoğan (born 26 February 1954) is a Turkish politician serving as the current President of Turkey, holding the position since 2014. He previously served as Prime Minister from 2003 to 2014 and as Mayor of Istanbul from 1994 to 1998. He founded the Justice and Development Party (AKP) in 2001, leading it to general election victories in 2002, 2007 and 2011 before standing down upon his election as President in 2014. Coming from an Islamist political background and as a self-described conservative democrat, he has promoted socially conservative and liberal economic policies in his administration.
Erdoğan played football for Kasımpaşa before being elected in 1994 as the Mayor of Istanbul from the Islamist Welfare Party Erdoğan's government oversaw negotiations for Turkey's membership in the European Union, an economic recovery following a financial crash in 2001.
In the local elections of 27 March 1994, Erdoğan was elected Mayor of Istanbul, with a plurality (25.19%) of the popular vote. He was pragmatic in office, tackling many chronic problems in Istanbul including water shortage, pollution and traffic chaos. The water shortage problem was solved with the laying of hundreds of kilometers of new pipelines. The garbage problem was solved with the establishment of state-of-the-art recycling facilities. While Erdoğan was in office, air pollution was reduced through a plan developed to switch to natural gas. He changed the public buses to environmentally friendly ones. The city's traffic and transportation jams were reduced with more than fifty bridges, viaducts, and highways built. He took precautions to prevent corruption, using measures to ensure that municipal funds were used prudently. He paid back a major portion of Istanbul Metropolitan Municipality's two billion dollar debt and invested four billion dollars in the city.
Source: Daily Sabah
Help Us Source & Publish More Great Stories Like This: Click Here