Giorgio Armani
By: Chris Siddell, Halal Incorp
Emporio Armani is one of fashion's most recognisable and world-renowned brands. The company itself was founded in 1975 by none other than the Italian, Giorgio Armani. Giorgio is undoubtedly one of the industry's most respected and ambitious designers who have permanently planted himself as one of the all-time greats in the fashion industry. His products are known for their class, quality, and excellence. Armani offers a variety of goods, including elegant clothing, stylish accessories, and divine aftershave.
Giorgio Armani's empire also extended to serviced goods and it even included lavish hotels and restaurants. This range provides the company to be competitive across several different markets and provides them with a position of power over others.
Giorgio Armani
He was born on 11 July 1934 in the city of Piacenza, Italy. Piacenza is an old city in Italy's 'Emilia Romagna' region and has a population of around 100'000. Piacenza is a city with a rich history as it was founded in 218 BC. It was originally a Roman colony but in recent years it is more celebrated for its food, wine, and all-around dining culture. The translation of the city's name into English is 'pleasant abode'. A very fitting name for such a picturesque location. Throughout the Middle Ages, trade and agriculture were prominent in Piacenza and resulted in the city becoming one of the richest in Europe during this time.
When he was young, Giorgio Armani wanted to pursue a career in medicine, especially after reading A. J. Cronin's 'The Citadel'. His passion for the medical world began when he was at his secondary school, the Liceo Scientifico Leonardo Da Vinci in Milan. He decided to enrol in the Department of Medicine at the University of Milan, however, after just three years his career path saw a drastic change. In 1953, after his time at university,
Armani enrolled in the Italian army. Although he was now in the Army, his medical background resulted in him being assigned to the military hospital, located in Verona. After his time in the military, he once again decided to make a change in his career and turned his focus toward the fashion industry.
Once he had finished his time in the military, he wanted to pursue his new desire which went down a route into the fashion trade. Despite Armani now being a globally recognized fashion brand, Giorgio had very humble beginnings in this area. One of his first occupations in the fashion industry was joining the team at La Rinascente, which was a legendary department store in Milan. He began his time here in 1957.
La Rinascente was/is an iconic Italian company which gained fame in the fashion industry. The company itself is very old and was founded in 1865. They offer a range of commodities including accessories, homeware, beauty, design, and food. Many similarities can be drawn between this company and Armani, so it could potentially be argued that Giorgio took a lot of inspiration for his own company during his time at La Rinascente. It can't be denied, however, that as an individual aspiring to make it in the fashion business, there are few better places to begin your career path than La Rinascente.
After spending some time in the fashion industry and gaining some experience, Giorgio Armani acquired a lot of knowledge of fabric and design. This would prove very useful when furthering his career in the style business. Following his few years working at La Rinascente, Giorgio was taken on at another company known as Hitman. He was hired as a designer, and this is where he would really begin to thrive. Giorgio got a true feel as to what it would be like if he made it in the fashion industry as he was now responsible for designing clothes for big companies.
It was during his time as a designer that his passion for style/clothes truly began to thrive. Armani soon understood he was not satisfied working for others and realised his true goal was to have his own company, where he was in control. His good friend and future business partner, Sergio Galeotti also recognised this and helped encourage Giorgio to pursue his dreams. These dreams shortly became a reality after Giorgio Armani left his job and began to design clothes for his own menswear label, courtesy of a friendly push in the right direction from Sergio Galeotti.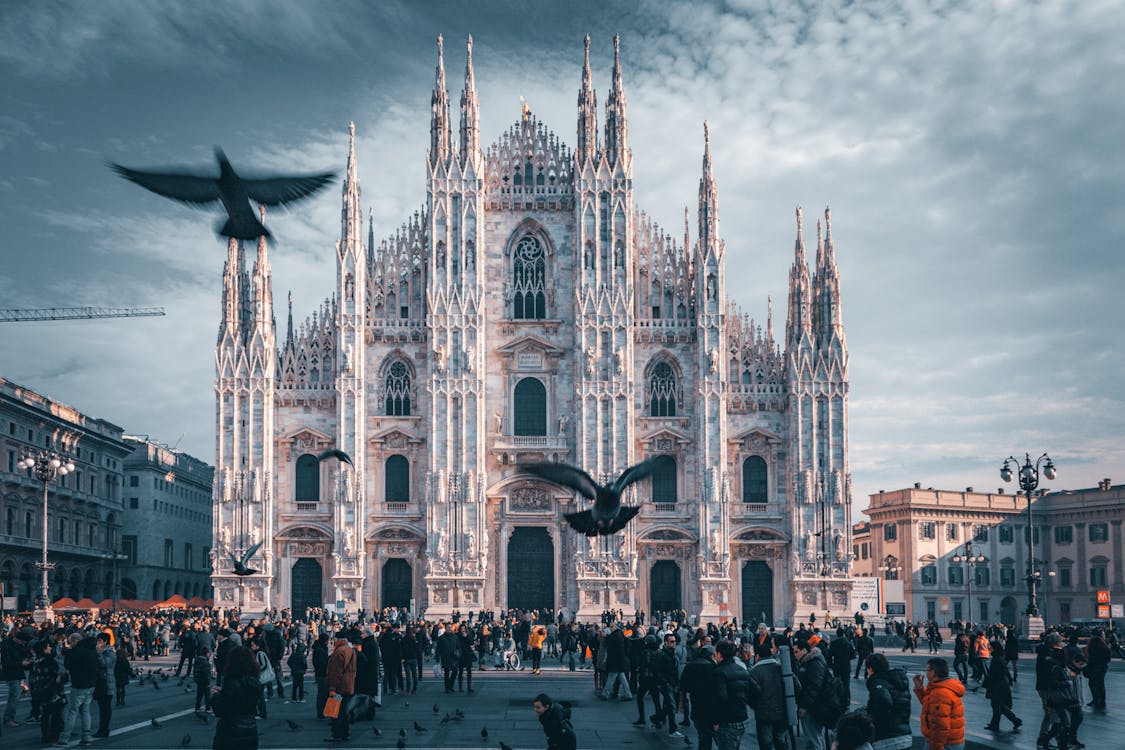 Giorgio Armani
In July 1975 Giorgio Armani's own menswear label had begun. Giorgio Armani and Sergio Galeotti were now business partners and had officially founded 'Giorgio Armani S.p.A'. He originally designed his own luxury menswear, however, a year later in 1976 he also released a womenswear collection.
The launch of the women's collection received a mostly warm reception, and many viewed it as a breath of fresh air in the fashion industry. Many regard Armani as a pioneer in the fashion and design world as he reconstructed many traditional fashion standards that were in place and had been for some time. The main difference he made with his clothing was surrounding gender.
He designed clothes for men, which were traditionally feminine and clothes for women which were conventionally masculine. Many believe that Armani revolutionised clothing for both men and women. Prior to his designs, most professional women across the world would often wear clothes which were often perceived as more feminine, for example, floral skirts and brightly coloured dresses.
However, Giorgio transformed this style and began creating clothes for women which had a much more elegant feel. This new style for women, initiated by Armani, would commonly be described as a chic look. Pantsuits made by Armani also became very popular amongst professional women in the 70s and 80s. He deconstructed the traditional fashion standards. Giorgio Armani stated that his ''vision was clear, I believed in getting rid of the artifice of clothing.
I believed in neutral colours''. Armani also described his approach to fashion as follows: "I was the first to soften the image of men and harden the image of women. I dressed men in women's fabrics and stole from men what women wanted and needed—the power suit.". Countless women greatly appreciated Armani's approach to fashion as it allowed them to broaden their wardrobe without being judged or insulted.
In the early years, Armani's style was extremely popular across Europe, especially in western countries. Despite its popularity in Europe, Armani's style, and design weren't as appreciated in the United States anywhere near as much. It wasn't until 1980 when Armani made its big break in the USA. The sudden rise in popularity of the clothing brand is thought to have originated from Armani being worn in films by famed actors. Actor Richard Gere wore his clothes in the film American Gigolo, which was released in 1980.
This helped generate a lot of interest in Armani within American society. Giorgio Armani's creations were also prominent in the hit show Miami Vice, which also aired throughout the 80s. Renowned actors were also choosing clothes featured in Armani's range to wear on the red carpet, which is arguably the biggest stage for designs to receive exposure. Americans were now being exposed to Armani's designs on a regular basis and as a result, were becoming fonder of his clothes.
Giorgio Armani: Was rising in popularity throughout the 80s, and it wasn't long before the company was becoming associated with power, fame, and success. The brand soon became a symbol of wealth and was desired by the masses. Despite the 80s being the best time financially for Armani, he and the business suffered from a huge personal loss. In 1985 co-founder of Armani, and close friend of Giorgio himself, Sergio Galeotti sadly passed away because of AIDs.
Although it was an extremely difficult time for him, Armani proved to the world that he could keep the business running smoothly. This highlighted to many that he was not only a world-class designer but also more than capable of running a vast business effectively.
Giorgio Armani
During the 80s and 90s, Armani was constantly increasing in wealth and status. It was climbing the popularity ladder at an alarming rate and as a result, allowed Armani to turn his clothing brand into a gigantic empire. Armani began to expand his company and started selling goods other than just clothing. By the end of the 1990s, Armani had over 200 stores worldwide and annual sales reached as much as 2 billion USD.
The company began to expand its offerings as it rose in fame, including restaurants, aftershave, accessories and many more. This highlights Giorgio's desire for success as he was always looking for a new challenge and new areas to do business in. His ventures continued for decades and even as recently as 2010 he has opened a luxury hotel in Dubai, and another is expected to arrive in Milan. This once again shows his incredible work ethic as he takes almost every possible opportunity, he can to increase his success.
Giorgio Armani has undoubtedly had an extraordinary life and his story is incredible. Since starting his own company all the way back in 1975 he has built a global empire and dominated the fashion scene for decades.
Even to this day, Armani's brand is associated with success and power. His desire to be triumphant is displayed by how many different areas he branched out into, ranging from aftershave all the way to hotels. His story shows how even those from humble backgrounds can turn a small clothing brand into a vast global business empire.
Disclaimer: The view of the author does not necessarily represent the views of Halal Incorp